Belgian prosecutors charge three men with terrorist offences following the Brussels attacks
Comments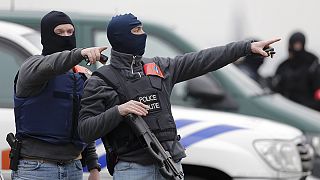 Belgian prosecutors have charged a man with terrorist offences in relation to the Brussels attacks.
The suspect was named as Faycal C but no further information was given. However, Belgian media are reporting that he is the third man seen on CCTV at the airport seen alongside the two suspected suicide bombers. Le Soir newspaper said he was identified by the taxi driver who took them to the airport.
No weapons or explosives were uncovered during a search of the suspect's home. Two other men were charged with terrorist activities and membership of a terrorist group.
In total nine people have been arrested in Belgium as investigations continue to uncover jihadist networks in the wake of the Brussels attacks.
In light of ongoing police operations, the interior minister has asked that a rally in tribute to the victims scheduled for Sunday be called off.