Tbilisi Judo Grand Prix: Dutch judokas paint Georgian capital Orange
Comments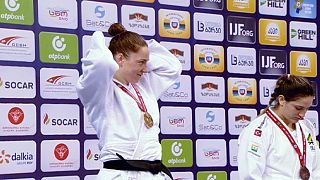 Dutch judoka's dominated proceedings on the third and final day of the Tbilisi Grand Prix.
From the five remaining categories of the tournament they won with four medals – two gold and two silver.
It's a team in fighting form with just a few months to go until the Rio Olympics.
Verkerk edges closer to Rio
Former world champion Marhinde Verkerk handed the Netherlands a first gold from the final day's action.
The 2015 European champion took a giant step towards sealing a place at one more Olympic Games as she defeated compatriot Guusje Steenhuis in the -78kg final.
Verkerk emerged victorious from a tight affair courtesy of fewer shido penalties as the Dutch team emerged with gold and silver.
Van T End continues Dutch golden streak
The travelling Dutch fans had more reason to celebrate later in the day when Abu Dhabi Grand Slam silver medallist Noel Van T End won the men's -90 kilo division.
He continued his country's golden streak by beating Sweden's Marcus Nyman thanks to a yuko and a waza-ari.
It was his second career success in the Grand Prix series following his triumph in Samsun last year.
Sasson claims first Grand Prix title
Paris Grand Slam runner-up Or Sasson celebrated his maiden Grand Prix title when he downed Roy Meyer of the Netherlands in the over 100 kilo category.
Sasson extended his head-to-head record against Meyer to four wins and one defeat courtesy of a yuko score that proved enough for him to win gold.
Pacek leaves it late
Tyumen Grand Slam winner Martin Pacek of Sweden left it late before dispatching Iran's Javad Mahjoub to win the under 100 kilo title.
With just 28 seconds remaining Pacek used an inner thigh throwing technique called an uchi mata which earned him the win by ippon.
It capped off a fine showing in Tbilisi for Pacek who won all four of his fights by judo's equivalent of a knockout.
Surprise, Surprise
It's Pacek's final opponent who created our surprise run of the day.
Mahjoub reaching the -100kg showpiece match took many by surprise as his last major triumph was in 2013.
He made it through his first two preliminary round fights thanks to two ippons before squeezing through the semis and then losing the final.
Image of the day
The Image of the day was provide by Portuguese judoka Jorge Fonseca who produced a stunning ippon in his second preliminary fight in the -100kg class against Hungary's Miklos Cirjenics. (Watch video above for Surprise and image of the day)