Valls, Juncker call for Europe-wide cooperation on security
Comments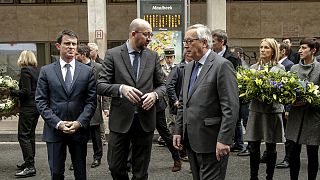 French Prime Minister Manuel Valls joined his Belgian counterpart Charles Michel and the President of the European Commission Jean-Claude Juncker as they paused to pay respects at the Maelbeek metro station in Brussels.
Shortly afterwards, both spoke up about the need to work together for the security of Europe.
Valls renewed France's calls for a Passenger Name Record system to be set up for European air travel.
What is needed, Valls said, is:
"Systematic border controls in the Schengen area, deployment of European border guards; I also reiterated the urgent need to better fight arms trafficking, the urgent need to adopt a European PNR system, to enable the tracking of terrorists' movements."
Juncker, too, called for Europe-wide cooperation.
"We also think we need to work together towards unified security. The Commission has proposed all the constituent elements for such a union of security. I would ask the Council of Ministers not to yield to the mounting pressure of lobbyists and instead to keep in mind the essential – what must be done."
An extraordinary meeting of the European Union's interior ministers has been scheduled for Thursday, March 24, to compose the bloc's response to the Brussels attacks.
Following #Brussels#attacks, @EU2016NL convenes meeting tomorrow of EU Justice & Security Ministers & representatives EU Institutions (1/2)

— EU2016NL (@EU2016NL) March 23, 2016
This meeting will take place 24/03 at 16h00 in @EUCouncil building in Brussels (2/2)

— EU2016NL (@EU2016NL) March 23, 2016
On short notice, @EU2016NL convenes extraordinary EU meeting following #BrusselsAttacks. Why is it exactly held? pic.twitter.com/SBrgJhBXJp

— EU2016NL (@EU2016NL) March 23, 2016