Solidarity for Belgium from migrants at the Idomeni camp in Greece
Comments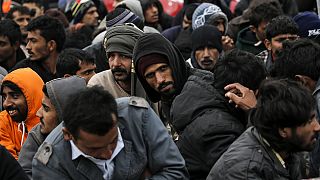 "Sorry for Brussels" was a message painted on the body of a young migrant at the camp at Idomeni in Greece. They wanted to show their solidarity with Belgium for they know confusion and rejection could await their dream of a life in Europe.
With each attack claimed by the so-called Islamic State Europe could tighten control over its borders and end the chance of a new beginning for these refugees.
"I'm really sorry and everybody here they feel sorry, who knows about what happened, they feel sorry about what happened in Brussels. You know we ran out of Syria and Iraq because of the same reason. We left our countries, our hometowns because of the same reasons, because of ISIS because of the suicide bombers, so I think we share the same destiny," explained one of the camp residents.
Another added: "Of course we are against any person killing another. We are humanitarian refugees, our homes were destroyed, we had no food, no water, rockets were flying over us everyday, what can we do?"
On November 13 Paris went into shock and the tremors spread throughout Europe. The slaughter was proof the terrorists could hit hard – anywhere. French President Francois Hollande declared a state of emergency in the country and addressed what many had been thinking the question of open borders.
"The second decision I have taken is to close the borders. We must ensure that no one will come here to commit an act like that of this evening," he said.
Security was tightened further with the discovery the Syrian passport of one of the Paris bombers was a fake. He had entered Europe via the Aegean island of Leros on October 3.
It raised the question of whether terrorists were hiding among the wave of migrants a question which many European countries were quick to respond to.
The day after Poland announced it would not take any more refugees and in the weeks that followed barbed wire fences were erected to the east including at Idomeni.
The plight of the refugees there has prompted the Greek Alternate Minister for Migration Policy Yiannis Mouzalas to express fears that children could die in the camp.