Belgian royal couple visit injured in hospital
Comments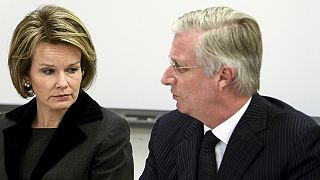 King Phillipe and Queen Mathilde of Belgium have been visiting survivors of the Brussels attacks at one of the hospitals where the wounded are being treated, accompanied by the
Prime Minister Charles Michel.
They met with medical staff and toured the wards which have been packed all over the city with the injured, stopping to speak with many victims, including several tourists and people from abroad.
"One of the victims is still not identified. One of them is from England, and he's not in difficult conditions, probably he can leave the hospital in the next few days. And for the rest, one Japanese and one French also," said Dr. Jean Paul Van Vooren.
A ceremony paying tribute to those killed or injured in the attack was also held at the hospital, while the royal couple also praised the emergency and medical teams for their efforts which had meant many working around the clock since Tuesday morning.