Obama adds Argentina to South America reset list
Comments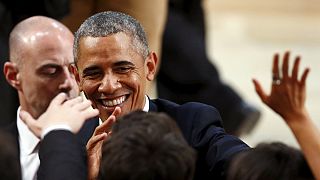 US President Barack Obama has promised a new era in relations with Argentina, with US firms announcing more than two billion dollars of new investments in the next 18 months. Obama also promised to lift the lid on shady bilateral past relations.
"I'm launching a new effort to open up additional documents from that dark period. We previously declassified thousands of records from that era but for the first time now we will declassify military and intelligence records as well. And I hope this gesture also helps to rebuild trust that may have been lost between our two countries."
The visit coincides with the 40th anniversary of the 1976 coup that installed a military junta with US approval.
"In another area we are committed to working together, which is also the second axis of our government, is to confront and defeat the drug trafficking. We are excited to work
together, to exchange information, technology, training and lead a battle without quarter against organized crime money laundering," said Argentina's new president, Mauricio Macri.
Obama, the first US president to visit in 88 years, also paid homage to the victims of the junta.