President Barack Obama recognises sanctions imposed on Cuba have not worked
Comments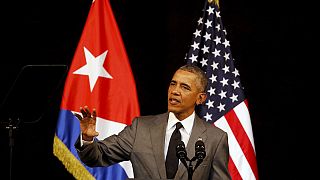 With a wave before boarding Air Force 1 President Baracj Obama left Cuba. But it is an image that does not portray the deep significance of President Barack Obama's three-day visit to Cuba. A goodbye to the president and a farewell to the last remnants of the Cold War welcoming in "a future of hope" for the island.
The 48-hour trip was vintage Obama culminating in his keynote speech before an invited audience and broadcast live by the state-run media. He recognised the sanctions imposed on Cuba since 1962 have not worked. Central to his theme was a message for Cuban people – choose democracy. It isn't perfect but it is the best system there is.
"As President of the United States, I've called on our Congress to lift the embargo. I believe my visit here demonstrates you do not need to fear a threat from the United States. I am also confident that you need not fear the different voices of the Cuban people and their capacity to speak, and assemble and vote for their leaders," he said.
His plea for civil liberties was heard in homes across the island. The ending of the embargo which he referred to as "an outdated burden on the Cuban people" was welcomed.
"When you have to buy a medicine you have to look for it in Japan and if it has a North American component they do not sell it to you. That is damaging – to the US government, the big US businessmen and to the Cuban people," explained Augustin Lopez Guevara a resident of Havana.
Many watched the speech with a sense of amazement particularly those who have family members now living in the US. Ninety-year-old Adela Servino has two grandsons in the States and could not believe what she was hearing.
"It is so huge, there is little of my heart left, there is no way to express how I feel," she said.
Obama also managed the feat of leading President Castro in a press conference. The Cuban president bristled when asked by an American reporter about political prisoners on the island.
"Give me a list right now of political prisoners to release them. What political prisoners? Give me a name. Or the names. Or when the meeting ends give me a list of the names. Give me a list of those political prisoners right now," he demanded of the reporter.
But 13 dissidents were given what one analyst said was the highest recognition they have received in their own country when they took part in a private meeting with President Obama in the US embassy on Tuesday. It's understood the meeting was against the wishes of Havana.
Neither Pope Francis, nor French President Francois Hollande or Federica Mogherini had held such a meeting during their visits to the island.