Italy to experiment against a rejuvenated Spain in Udine
Comments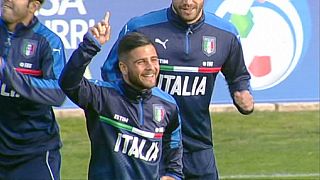 Italy and Spain resume their long-standing rivalry in Thursday's friendly in Udine.
Italy are in transition having lost to Belgium in their last match preceded by a draw with Bulgaria.
Azzuri boss boss Antonio Conte is likely to play and experimental side as he struggles to find his best combination ahead of the euros later in year.
International friendly preview: Italy vs Spain. #SerieA | https://t.co/wspT5rARhkpic.twitter.com/QQ72h0ptek

— Read Sport (@ReadSportCo) March 23, 2016
Alessandro Florenzi Roma's midfielder/defender will play a key role in the match: ''The approach to the game will be to stop them from playing their game, because Spain is possibly the strongest side in the world when it comes to possession. We will have to face them without fear, but we will have to show our skills and not be passive to their game.''
Spain have recovered well from their World Cup humiliation having kept six clean sheets in their last seven games.
Focus is on soccer, not terror as Italy prep for Spain https://t.co/ZJuMHcD91wpic.twitter.com/gzaUbGpYBM

— Stadion Bola (@stadionbola) March 23, 2016
Security is tight ahead of the game following the Brussels attacks and the targeting of the Stade de France in Paris as France played Germany last November.