Brussels bombers included two brothers
Comments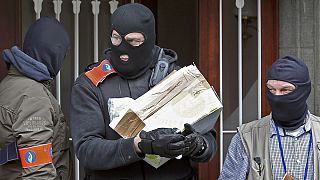 What we have learned
Two brothers carried out suicide bombings at Brussels airport and on the city's metro system.
Of the three suspects shown in a security video, one has been identified, one has not and a third is on the run.
Tip-off came from taxi driver who picked the three men up from an address in the Schaerbeek area of Brussels.
Police search at the house uncovered bomb-making equipment, including "a suitcase full of nails".
Document said to be "will" of 29-year-old Ibrahim El Bakroui found in litter bin nearby.
270 injured

The Bakroui brothers
Police in Belgium say they now know two brothers carried out the suicide bomb attacks at Brussels International Airport and on the city's metro system.
Judicial, police and security officials revealed the information during a joint press conference in the Belgian capital.
Federal prosecutor Frederic Van Leeuw said Ibrahim El Bakroui also left a last testament saved on a computer found dumped in a litter bin in Schaerbeek.
In it, he describes himself as:
Always on the run
Not knowing what to do anymore
Not being safe any longer
Ending up in prison (like Salah Abdeslam)
27-year-old Khalid El Bakroui detonated his device on the metro an hour after his brother at the airport.
Both men were Belgian nationals. They had criminal convictions for armed robbery but no established links to militant activity.
The hunt for the killers
Brussels bombers identified as two brothers https://t.co/XaR7BPiPiqpic.twitter.com/TnqZLxWeMw

— euronews (@euronews) March 23, 2016
A taxi driver has come forward and told police he picked three men up from an address in the Schaerbeek neighbourhood and took them to the airport yesterday morning.
They resembled the men he later saw in the CCTV footage on television. The driver reportedly found it suspicious that they did not want him to lift their luggage in and out of the boot of his taxi.
Police operations are continuing across Brussels as investigators try to identify the network behind Tuesday's attacks.
What they are saying
"A photo showing the three suspects was published. The perpetrator in the middle of the photo who is one of the two suicide bombers, has been identified by his fingerprints. It is Ibrahim El Bakroui, born in Brussels on October 9, 1986 and of Belgian nationality. The second suicide bomber on the left of the photo has not yet been identified. The third suspect in a light jacket and wearing a hat is on the run."_ Belgian Federal Prosecutor Frederic Van Leeuw gives an update.
"The investigators found a computer containing Ibrahim El Bakroui's will, in which he says he is, and I quote, 'In a rush, not sure what to do, feeling hunted, no longer safe and if he continues, he might end up sharing a cell (with Salah Abdeslam).'"_ – Belgian Federal Prosecutor Frederic Van Leeuw reveals details of the recovered document.