Brussels attacks: 'a surprise if no links to Abdeslam arrest'
Comments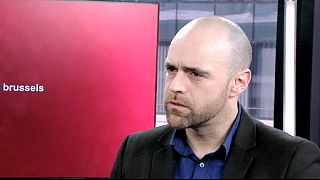 The arrest of Saleh Abdeslam likely triggered a terrorist cell to attack targets in Brussels, according to a Belgian security expert.
Didier Leroy, a researcher at the Royal Military School and the Free University of Brussels, told Euronews that the attackers had wanted to send a message by striking the international airport, near to Nato's headquarters as well as a metro station near the main European Union institutions.
Below is the text of the interview:
Euronews : Were you surprised by these attacks?
Didier Leroy : Surprised of course by the severity of this event. Nevertheless the authorities and experts suspected there would be an attack of this kind on Belgian soil.
Simply because Belgium – related to the size of its population – has seen the greatest number of fighters leave for Syria and Iraq.
Brussels is already a symbolic target as shown by the attacks that were executed this morning.
Euronews :
It's this symbol of Brussels that they wanted to target?
D Leroy: They wanted to strike the international dimension of Belgium and the capital of Europe. The international airport is clearly the most obvious place where people travel abroad. Then the airport is close to the NATO HQ. It's also important to remember that.
And this operation targeted different places in Belgium.
For the Maelbeek metro station, they hit a metro line close to Schuman. Both stops are known for their links the EU institutions.
Euronews : They found weapons, traces of explosives these past weeks here in Brussels. Do you think the arrest of Salah Abdeslam sparked these attacks?
D Leroy : We'll have to wait for the results of a concrete investigation to draw this kind of conclusion.
But it would quite surprising if there wasn't some kind of direct or indirect link with that event.
So a synchronised attack has probably been developed over time. But its putting into practice seems to have been sparked by the arrest of Salah Abdeslam.
Euronews : Was the objective to hit a wide range of people?
`
D Leroy : Yes, clearly there was a wish to draw the maximum amount of attention. To do the most possible damage with a minimum of resources which would be in line with the propaganda of the Islamic State organisation.
Euronews : Do you expect the threat from terrorism to increase in 2016?
D Leroy : Unfortunately terrorism or political violence has always existed and will always exist. There is no security tool to reduce it to zero.
In the current context, we are still in the international coalition against the Islamic State in Syria and Iraq, which has the indirect effect of galvanising it, making this phenomenon more dynamic to attract foreign fighters.
I think we are still in a period where we must remain vigilant regarding this kind of menace.