Belgium unites in minute's silence for victims of Brussels bombings
Comments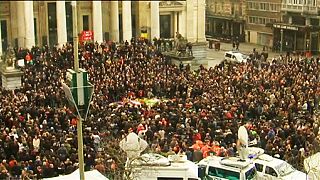 Belgium has observed a minute's silence for the victims of the March 22 terror attacks.
At noon several thousand people gathered at various points around Brussels to honour the victims of the bombings.
In Place de la Bourse, in the heart of the capital, cries of "long live Belgium" could be heard, followed by applause.
#UPDATE Belgians observe minute of silence for Brussels attacks victims https://t.co/aXYFYCN8AUpic.twitter.com/SONA6NdJXC

— AFP news agency (@AFP) March 23, 2016
European Commission
At the European Commission, in the same neighbourhood as the Maelbeek metro explosion, EC President Jean-Claude Juncker was joined by Belgian Prime Minister Charles Michel, King Philippe and Queen Mathilde and French PM Manuel Valls.
L'Europe, unie, aux côtés de la Belgique, rend hommage aux victimes des attentats terroristes de Bruxelles. pic.twitter.com/NqizGif5LY

— Manuel Valls (@manuelvalls) March 23, 2016
(
Europe, united at Belgium's side, pays homage to the victims of the terror attacks in Brussels.
)
EU Foreign Policy Chief Federica Mogherini, who gave a short and very emotional speech immediately after the attacks, was also in attendance.
À #Bruxelles. Hommage aux victimes avec @JunckerEU@CharlesMichel@manuelvalls. Au travail à la Commission pic.twitter.com/kvI1V8kdCc

— Federica Mogherini (@FedericaMog) March 23, 2016
(
In Brussels. Paying homage to the victims, with Charles Michel and Manuel Valls. At work, at the Commission.
)
Parliament joined a minute of silence to pay tribute to the victims of yesterday's terrorism attacks in Brussels pic.twitter.com/a8MQViBFEZ

— European Parliament (@Europarl_EN) March 23, 2016
Brussels Airlines
The sense of solidarity spanned the capital and beyond. At the heart of the first explosions, Brussels Airlines staff in the Zaventem airport offices, came together to remember the victims.