Italy mourns loss of seven students in fatal bus crash in Spain
Comments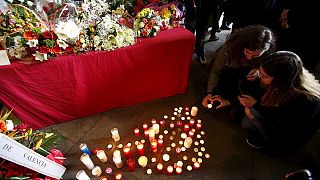 Italy is mourning the loss of seven of its students who were among the 13 victims who died in Sunday's bus crash in north east Spain.
We had only one daughter and now we have no meaning to our lives
All were young females aged between 19 and 25. Their families are being cared for by the Catalan authorities as they carry out the painful process of formally identifying their loved ones.
The parents of 23 year-old Serena Saracino told of their grief.
"Even their bodies are destroyed. Its adds to our pain, its kills a parent twice over. We had only one daughter and now we have no meaning to our lives," said her father. Her mother added through her tears, "We died with her. We don't have any reason to live."
#italy Seven Italians killed in Spain bus crash: Renzi meets victims' families in Catalonia https://t.co/iGazKchAZR

— Italia News, Italy (@ItaliaNEWS) March 21, 2016
Italian Prime Minister Matteo Renzi has been among several officials to visit the crash site near Valencia and to offer comfort to the 24 people who are being treated in hospital, six of them in a serious condition.
The bus that crashed was one of five that had traveled to the festival with students from Barcelona University. It's thought it hit a guardrail, then cartwheeled across the road, eventually landing on its side. Police are investigating whether the driver, who survived and has tested negative for drugs and alcohol, fell asleep at the wheel.,
On board the bus were 57 students. They were all part of the Erasmus exchange programme. The other six victims include two from Germany and one each from France, Romania, Austria and Uzbekistan.
The accident is one of the deadliest in Spain in recent years.
In November 2014, a bus carrying pilgrims fell into a ravine in the southeast of the country, leaving 14 dead and another 41 injured.
Spain's Prime Minister Mariano Rajoy tweeted his concern on Sunday.
"My condolences to the families of the victims and I wish rapid recovery to the injured," he wrote.