Greece begins deportation process under new EU - Turkey deal
Comments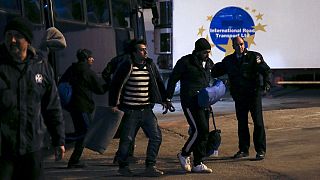 Greece begins deportations

FRONTEX

says implementing EU -Turkey deal is a 'challenge'
Migrants keep coming unaware of new accord
Greece has begun the process of deporting migrants under the EU deal agreed with Turkey.
On Monday the first group of 150 people mainly from Pakistan and Bangladesh were transfered, handcuffed and under police escort, from the Greek island of Lesbos, to Athens by ferry..
While the aim is to give a clear message to migrants that there will no longer be a way for them to cross illegally into the EU, the head of the bloc's border agency FRONTEX said implementing the deal will be challenging.
Greece struggled to enforce the latest migrant deal. Pix from Lesbos by SergeyPonomarev</a> <a href="https://t.co/Kzu3JMwgjy">https://t.co/Kzu3JMwgjy</a> <a href="https://t.co/cn2LzeyWp6">pic.twitter.com/cn2LzeyWp6</a></p>&mdash; David Furst (DavidFurstNYT) March 21, 2016
Under the deal, for every Syrian returned to Turkey , another will be resettles from Turkey within the EU. It's a process which has already triggered alarm for some human rights groups for being discriminatory, a violation of international law and one which can be challenged in court.
However the deal stipulates that a coordination structure must be created by March 25 and 4,000 personnel mostly from EU member states must be deployed to the Greek Islands to asses asylum claims.
Meanwhile frustration boiled over once again among the 47,000 migrants stranded in Greece when countries along the Balkan route shut their borders a few weeks ago.
Under the accord any one who arrives in Greece after March 20 must be held until their papers are processed and those deemed ineligible are to be sent back to Turkey. The fate of those stranded on the border for the past few months remains unclear.
And since the accord came into effect hundreds of migrants have continued to make the dangerous crossing from Turkey unaware of the deal and the new regulations.
One Syrian mother with a new born baby said despite the problems she was clinging to the hope of a better future.
"All I wish for my baby what every mother would for her children. (I wish for him) to grow up, to go to school and to have a roof over his head."
There's a crucial difference between refugees & migrants – learn more https://t.co/gM1w8LD10rpic.twitter.com/1tuhYkXptY

— UN Refugee Agency (@Refugees) March 22, 2016