7 Italians and 2 Germans among victims of Spanish bus crash
Comments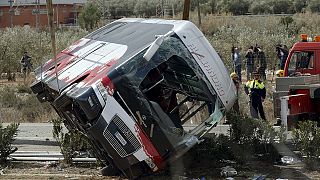 Seven Italians and two Germans are confirmed to have died in Sunday's Spanish bus crash. The victims, all young female exchange students, also include one Romanian, one Frenchwoman, one Uzbekistani and one Austrian.
Authorities are investigating claims that the driver of the bus fell asleep at the wheel.
The Catalan regional interior minister Jordi Jane spoke to reporters.
"From the Catalonia government we have already set up a task force with the consulates and embassies so they can quickly get in touch with the concerned families," he said.
Jane said 57 students were travelling on the bus which appeared to hit a guardrail. It cartwheeled across the road, ploughing though a divider and landing on its side.
All students on the bus were enrolled at Barcelona University as part of the European Erasmus exchange programme.
Anyone with concerns about family members who may have been affected should contact the Spanish Red Cross on +34 900 4000 12.
The bus that crashed was one of five that had traveled to the festival with students from Barcelona, the Catalan government said in a statement.
Television images from state broadcaster TVE showed the bus also crashed into an oncoming car on the opposite side of the highway. The passengers in the car were injured, the Catalan government said.
The bus driver was being held at a police station in the city of Tortosa, Jane said. Road conditions were good at the time of the crash and investigators were looking into the cause of the tragedy, he said.
Fernandez Diaz said the driver passed alcohol and drug tests he was given.
7 of 13 students killed in Spain bus crash were Italian official. https://t.co/4ITrYVJrZLpic.twitter.com/Wzvaxr5GMU

— Report 24 Canada (@Report24CA) March 21, 2016