Identification ' taking time' of victims in fatal bus crash in Spain
Comments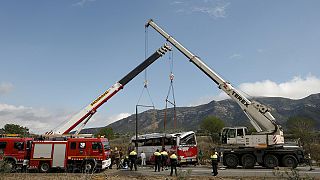 An investigation is under way into a fatal bus crash in north east Spain in which at least 13 people were killed and eight others were seriously injured. There were 61 passengers on board.
The bus which was carrying a large group of foreign university students had been returning from a festival in Valencia. Seven Italian women and two German women are believed to be among the dead.
Euronews reporter Francisco Fuentes said the bus that crashed was one of five vehicles hired for the trip. The students, were mostly attached to the University of Barcelona.
It's thought there were around 20 different nationalities on board. All the victims were female and aged between 22 and 29.
Catalan's Home Affairs Minister Jordi Jané said identification was taking some time as the passenger didnt have attributed seats. He went on to say, "We are proceeding with DNA tests, so we can compare potential victims' DNA to DNA found on the place of crash."
The driver who survived the crash has tested negative for alcohol and drugs but human error is suspected.
The vehicle is thought to have swerved hitting an oncoming car and then overturned. Two people in the car were injured.
Bus that crashed in Spain, killing 13, was carrying exchange students from around 20 different countries: https://t.co/HV1WjAAmgG

— The Associated Press (@AP) March 20, 2016