'Selfish' air traffic controllers disrupt travel plans for thousands
Comments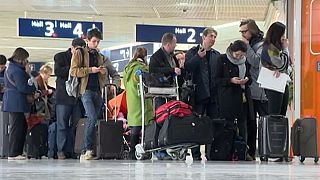 About a third of flights have been cancelled at French airports as air traffic controllers strike over caps on recruitment and lack of investment in new technology.
Low-cost airline Ryanair has slammed the aviation unions as "selfish."
"I am flying to Malaga," said one frustrated traveller, "so I am stuck in Paris for two days. I've flown from Munich. So I am here and I don't know what to do."
"I am ready to understand their situation, but they have to understand they live with customers," said another.
Ryanair has pointed out it's the 41st strike by French air traffic controllers in seven years.
It affects flights flying over France not even using French airports.
"We are exhausted by the situation," explained Laurent Bertin, head of controllers' UNSA Union, adding, "exhausted by the fact that there are constant job cuts with no answers from our management, or answers totally out-of-context."
Ryanair spokesman Robin Kiely has called on the French government and the EU Commission to take action.
"It's grossly unfair that thousands of ordinary European consumers have their travel and holiday plans disrupted by the actions of a selfish few," he said.
Ryanair is urging consumers to sign its 'Keep Europe's Skies Open' petition to the European Commission.