Brussels anti-terror raid triggers tension in Molenbeek
Comments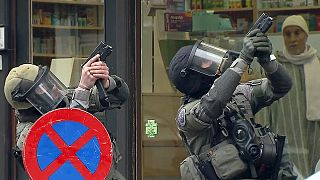 The capture of Paris terror suspect Salah Abdeslam has been widely hailed as a major success.
"The leaders of France and Belgium may have praised the work of security services here but questions still remain, none more so than just how did Abdeslam manage to hide out in his hometown for more than four months. He was captured just a few blocks away from his family home," said euronews correspondent in Brussels, James Franey.
The police operation continuing into the night stirred tensions in the rundown district of Molenbeek – home to a large Muslim community.
Not only was access disrupted for locals but many are angry about the neighbourhood being labelled a breeding ground for Islamist violence.
"They are tarring everyone with the same brush and forgetting that the Moroccan community, that has been here for 40-50 years, works really hard," said Yacine, a young man from just outside Molenbeek.
"To say that it is a jihadist hot-spot here, no! Look for them somewhere else!"
Media reports of Friday's raid will do nothing to improve Molenbeek's radical reputation. But for the ordinary families who live there, the deprived district is also their home.
Abdeslam was shot in police raid in the district of Molenbeek at 4:30pm https://t.co/ql9ww9TTt0pic.twitter.com/p96waka6Kt

— Daily Mail Online (@MailOnline) 18 mars 2016