Salah Abdeslam, Europe's most-wanted man, arrested in Brussels
Comments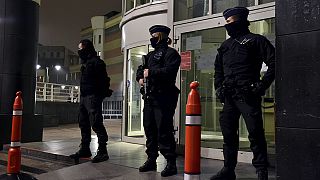 Salah Abdeslam, the most-wanted man in Europe, is one of five people arrested in Brussels during a huge anti-terror operation.
The 26-year-old French national was the number one fugitive following a coordinated series of attacks in Paris last November, in which 130 were killed.
Ahead of Friday afternoon's (March 18) raids in the Molenbeek area, Belgian authorities disclosed a fingerprint found during an investigation in another part of the capital belonged to Abdeslam.
His last known address was in Molenbeek.
Abdeslam's arrest took place some 450 metres from where the ISIL-claimed Paris attacks are believed to have been planned.
Both Belgian and French forces were working together to find him. A huge police and army operation began at around 4pm local time (CET), following a tip-off from French authorities.
Abdeslam was reportedly shot in the leg before being captured and is said to be receiving hospital treatment.
One suspect, Mohammed Abrini, is still on the run. Ten others were already being held in Belgium in connection with the November 2015 bombings and shootings.
Abdeslam's capture will be seen as a huge success for Belgian and French forces. Authorities will now be looking to find out his exact role in the attacks and who coordinated the operation.
But his arrest also highlights issues of a different nature. There had long been speculation over whether or not he had remained in Belgium or fled to Syria.
His home neighbourhood of Molenbeek has been the scene of a number of investigations since November, raising questions about how Abdeslam — Europe's most-wanted man — managed to evade arrest for so long.