France seeks swift extradition of Salah Abdeslam
Comments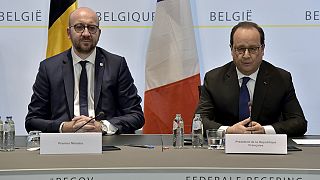 Salah Abdeslam is the biggest prize.
But Belgian authorities detained four more suspects in Friday's police operation in Brussels, including a second wanted man, said to use the false name of Amine Choukri.
Belgian Federal Prosecutor Eric Van Der Sypt told reporters:
"The so-called Monir Ahmed Al Hadj, alias Amine Choukri, was arrested and slightly injured. He has also been transferred to the hospital. Three other persons have also been arrested, Abid A, Sehan A, and Djamilla M, all members of the family that hid Salah Abdeslam."
President Obama called to congratulate Francois Hollande, in Brussels for an EU summit, and Belgian Prime Minister Charles Michel who hailed "an important result in the battle for democracy".
The French leader made clear that he expects Abdeslam's swift extradition to France.
"Salah Abdeslam was under a European arrest warrant. I have no doubt the French judicial authorities will make an extradition request very quickly," Hollande told a joint news conference on Friday evening.