England Six Nations title 'fantastic achievement' - Jones
Comments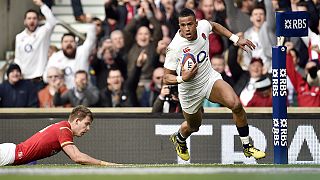 England coach Eddie Jones hailed a "fantastic achievement" by his team after they won the Six Nations for the first time since 2011 when Scotland beat France on Sunday.
France remained on four points after losing 29-18 to Scotland and cannot overhaul Jones's side when they meet in Paris on Saturday with England looking to complete the grand slam.
England, who secured a thrilling 25-21 victory over Wales on Saturday, have a maximum eight points from four matches and have secured the Six Nations title for only the second time since their 2003 World Cup triumph.
England are the rbs_6_nations</a> Champions but how did social media react? Find out here: <a href="https://t.co/7kkP6bVR0F">https://t.co/7kkP6bVR0F</a> <a href="https://t.co/abcMQ1Ds4Y">pic.twitter.com/abcMQ1Ds4Y</a></p>&mdash; England Rugby (EnglandRugby) March 13, 2016
"It's a fantastic achievement," Jones told BBC Sport.
"We've made sure the players are responsible, we play in a style that suits our resources and the players enjoy themselves."
England were knocked out of the World Cup on home soil last year after losing at Twickenham to Wales and Australia in the group stage.
Coach Stuart Lancaster was sacked after the tournament and Jones appointed as England's first foreign coach in November.
The Australian paid particular tribute to his blind-side flanker Chris Robshaw, the team captain under Lancaster who was widely criticised following the World Cup debacle.
"To be splashed on the papers, basically the villain of English rugby, and have to endure the captaincy debate, which I didn't help but was necessary," Jones said.
"To come back and play such a pivotal role in the resurrection of the team, I think it is just outstanding," Jones added.
"It would have been easy for him to go back to Harlequins and ply his trade there and have a nice easy life but he really wanted to continue playing for England."
Robshaw has made the adjustments himself, Jones said.
"The guidance I've given him is what can his new goals be — he can be the best number six in European rugby," the Australian added.
"If you were picking a Six Nations team now, he would definitely get in a best 15 at number six."
| | | | |
| --- | --- | --- | --- |
| 06/02/2016 | France | 23-21 | Italy |
| 06/02/2016 | Scotland | 9-15 | England |
| 07/02/2016 | Ireland | 16-16 | Wales |
| 13/02/2016 | France | 10-9 | Ireland |
| 13/02/2016 | Wales | 27-23 | Scotland |
| 14/02/2016 | Italy | 9-40 | England |
| 26/02/2016 | Wales | 19-10 | France |
| 27/02/2016 | Italy | 20-36 | Scotland |
| 27/02/2016 | England | 21-10 | Ireland |
| 12/03/2016 | Ireland | 58-15 | Italy |
| 12/03/2016 | England | 25-21 | Wales |
| 13/03/2016 | Scotland | 29-18 | France |
| 19/03/2016 | Wales | 15:30 | Italy |
| 19/03/2016 | Ireland | 18:00 | Scotland |
| 19/03/2016 | France | 21:00 | England |
| | | |
| --- | --- | --- |
| 1 | England | 8 points |
| 2 | Wales | 5 points |
| 3 | Scotland | 4 points |
| 4 | France | 4 points |
| 5 | Ireland | 3 point |
| 6 | Italy | 0 point |