At least 37 dead after car bomb explosion in Ankara, Turkey
Comments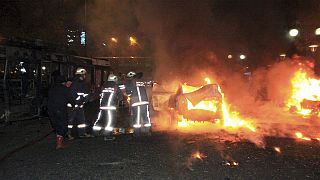 A car bomb has caused carnage in the centre of the Turkish capital Ankara.
The authorities now say at least 37 people have died and some 75 have been injured.
The blast happened just before 6.45 p.m. local time at Kizilay Square near the central Guven Park. The area was said to have been crowded at the time – it is near a courthouse and the justice and interior ministries.
The state broadcaster TRT said the car exploded at a major transport hub – several bus stops are located there – hitting a bus carrying some 20 people.
No group has yet claimed responsibility.
A Turkish security official is quoted as saying initial findings suggest the attack was carried out by Kurdish militants from the PKK or an affiliated group.
The main Kurdish party the HDP has condemned the bombing.
According to Turkish broadcasters, a court in Ankara has ordered a ban on access to Facebook, Twitter and other sites in Turkey in the aftermath of Sunday's attack, after images of the car bombing were shared on social media.
It is the third major attack in the city in under six months.
Last month – a car bomb on a military bus in the capital killed nearly 30 people, mostly soldiers, and wounded dozens more. Kurdish militants claimed responsibility for that attack.
Last October more than a 100 people were killed in a suicide bombing at a Kurdish peace rally in the city.
Turkey, a NATO member, is facing security threats on several fronts – notably from Kurdish militants and from ISIL from its base in neighbouring Syria – where it's part of the US-led coalition.