Ankara bombing: a witness gives his account of what happened
Comments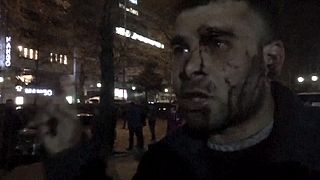 As Ankara's hospitals struggled to cope with the casualties, the walking wounded began telling reporters what they had seen. One witness had been near the bus which was caught up in the blast.
"All the seats (in the bus) were full. About 40 to 50 people. There were about 40 to 50 people on it. The bus slowed down, a black car went by us, and seconds later …'boom', it exploded and seats went flying . A red thing appeared…it was fire … fire broke out . It killed at least two or three people. … the force of the blast sent metal flying … a piece hit me here and here…. I fell down."
According to other witnesses the fire engulfed several cars in the area.With so many of the injured said to be in a critical condition the number of fatalities is expected to rise.
Latest on Turkey explosion: Turkey's health minister says death toll in the Ankara bombing has risen to 34 https://t.co/MHDjsa7iyd

— The Associated Press (@AP) March 13, 2016