Migrant crisis takes centre stage as Hollande hosts European left leaders
Comments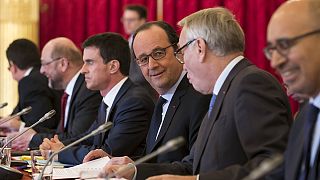 The migrant crisis was central on Saturday as Europe's left-leaning leaders gathered in Paris for talks with French President Francois Hollande.
Among them were Italy's Prime Miniser Matteo Renzi and Werner Faymann, the Chancellor of Austria which last month imposed daily caps on the number of migrants it is letting in. This was the start of a domino effect that has seen border restrictions imposed by several countries.
For Hollande, the priority should be the protection of Europe's external borders.
"This is all of Europe's task," he told reporters.
"If the external borders are protected, we will be able to avoid the restoration of internal, national borders, which have been put in place by certain countries in a unilateral way."
No-one knows more about the strains of dealing with the migrant crisis than Greece whose leader has denounced the 'unilateral' closure of the Balkan route.
"We need to come back to our foundation values: solidarity, democracy, social cohesion," said Greek Prime Minister Alexis Tsipras.
"So the progressive forces must be united in order to face these big challenges…the extreme right policies and the forces that build fences and create a very bad atmosphere."
Border restrictions have also angered those working with refugees on the ground, like the medical charity Doctors Without Borders (MSF).
Hey #Europe, your tax euros are being spent fencing off #people like this with razor wire. pic.twitter.com/SzdSvgKgYe

— MSF Sea (@MSF_Sea) 11 mars 2016
An EU summit next week is due to fine tune details of a tentative deal with Turkey aimed at halting the influx of migrants and refugees to Europe's shores.