'It is very hard': a young widow and mother's struggle in Idomeni
Comments
By
Euronews
with
INTERNATIONAL RESCUE COMMITTEE, REUTERS, SAVE THE CHILDREN, QUARTZ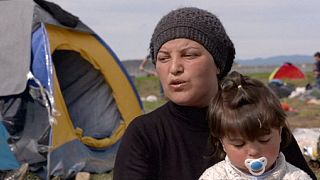 At least 13,000 of the almost 42,000 refugees and migrants stuck in Greece are camped out in Idomeni, near the Macedonian border.
Among them are Syrian Nisrine Shiko and her five children. Her husband was killed in a bomb attack on Aleppo, three years ago.
"It is hard," she said. "I was a housewife before and my husband was everything to me. And now I am both mother and father at the same time. It is very hard."
Nisrine said she had been in the camp for ten days. Living conditions are impossible, she added.
There are reports of scuffles breaking out as desperate camp-dwellers jostle for food, while the winter weather is making sleeping conditions unbearable.
"It is difficult with five children," Nisrine explained. "Yesterday, when it rained, my children were all soaked, the blankets were soaked. I dried my children, I put them to bed. And I haven't slept since."
Women and children are among the most vulnerable in humanitarian crises such as this, the International Rescue Committee (IRC) reports.
A barefoot child rests in a tent at a reception center for refugees and migrants in Idomeni, #Greecepic.twitter.com/KrqNm9Tuk0

— UNICEF (@UNICEF) March 11, 2016
"Although there are protection actors on the ground, doing all they can to meet the needs of those at the site, they are overstretched by the quickly increasing and stationary number of arrivals," the IRC says.
In Idomeni's transit camp, there are no women's safe spaces, something the IRC stresses is crucial in an emergency.