Japan: Fukushima wounds still deep, five years on
Comments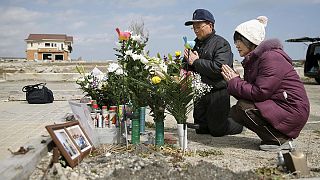 Japan's Emperor Akihito led the tributes, five years on from the Fukushima disaster on Friday, but for those who lived through it, the wounds have far from healed.
Prime Minister Shinzo Abe also paid his respects at a memorial ceremony in Tokyo as across the country people bowed their heads in silence at exactly 2:46 pm local time.
Flags at central government buildings were at half-mast, some draped in black.
All the trains on Tokyo's vast underground paused for a minute.
It was 2:46 pm on Friday March 11, 2011, when a magnitude 9 earthquake struck, triggering a tsunami and the world's worst nuclear disaster since Chernobyl in 1986.
Deadly waves gushed in along the northeast coast, with devastating consequences. Nearly 20,000 people were killed.
More than 160,000 others were forced to flee their homes as the tsunami also crippled the Fukushima
Dai-ichi Nuclear Plant, where meltdowns in three reactors spewed radiation over a wide area of the countryside, contaminating water, food and air.
Billions have been spent to help stricken communities.
But thousands of people are still languishing in temporary housing with some areas remaining no-go zones due to high radiation.
Five years after nuclear meltdown, see what remains of once fertile landscape of #Fukushima: https://t.co/mBzwyA7oeTpic.twitter.com/tg1QbzsU3f

— Nat Geo Photography (@NatGeoPhotos) 11 mars 2016
The disaster led to the eventual shutdown of all the nation's nuclear reactors but, amid great controversy, the industry and Prime Minister Abe have moved to try to restart Japan's fleet of nuclear power plants.
Environmental group Greenpeace was among those paying tribute to the dead today.
Rainbow Warrior crew offer 200 flowers to the sea in remembrance of the 20,000 lives lost 5yr ago today #Fukushimapic.twitter.com/h37vlFAoq4

— GP Rainbow Warrior (@gp_warrior) 11 mars 2016