Before and after: The scars of Japan's tsunami five years on
Comments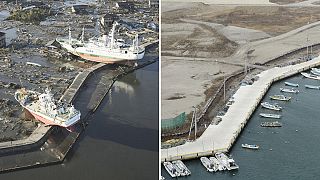 One of the biggest earthquakes in history shook Japan's northeast five years ago.
It triggered a 10-metre tsunami which smashed into the Fukushima Daiichi nuclear power plant, triggering a meltdown and forcing nearby towns to evacuate.
The disaster killed more than 19,000 people across Japan and caused an estimated 16.9 trillion yen (137 billion euros) in damages.
Rebuilding, but for who?
Japanese Prime Minister Shinzo Abe says the rebuilding of towns in the devastated northeast is crucial to reviving the country.
Tokyo has pledged 26.3 trillion yen (211 billion euros) over five years to rebuild the disaster area and will allocate more funds for the next five years.
More than 160,000 people were evacuated from towns around the Daiichi nuclear plant due to radiation contamination. Around 10 percent still live in temporary housing across Fukushima prefecture.
Most have settled outside their hometowns, they have started new lives and some of them don't want to return.
In pictures: After the tsunami and today
Yamada
Higashimatsushima
Iwaki
Kesennumma
Kesennumma
Naraha
Natori
Natori
Onagawa
Rikuzentakata
Shinchi
View from space
Using satellite images, Google has released a time-lapse video showing reconstruction efforts in the Tohoku region since the earthquake and tsunami in 2011.
Fukushima 'dark tourism'
Plans to turn the Fukushima nuclear power plant into a tourist destination look set to be scrapped amid opposition and sensitivities.
Under the proposals, people would have been able to visit the site without protective suits by 2036.
Those promoting what some have dubbed as "dark tourism" come from all walks of life including business, journalism, architecture and sociology.