Tensions mount on Korean Peninsula, as Pyongyang fires two more missiles
Comments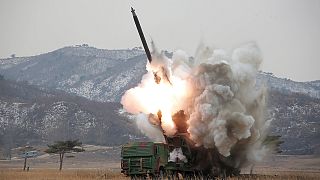 North Korea has fired two short-range ballistic missiles into the sea as tension with Seoul and Washington continues to mount.
This after the north claimed it had miniature nuclear warheads to place on its missiles and was ready to carry out nuclear strikes.
Angry over joint military exercises underway between the US and South Korea, Pyongyang has also announced it is cancelling all commercial exchange projects with the south.
Cho June-Hyuck, a South Korean Foreign Ministry spokesman, said: "Our government, through our delegation at the UN, is discussing diplomatic response measures with our allies.
"And we plan to take various necessary measures including sending a letter to the chairman of the North Korea Sanctions Committee of the Security Council."
Japan has also lodged an official protest at the North Korean embassy in Beijing.
The north is facing tough new sanctions after a fourth nuclear test and the test-firing of long-range missiles.
Pyongyang says it will also "liquidate" South Korean assets left behind in a jointly-run commercial zone where cooperation was suspended last month.