North Korea claims it has miniature nuclear warheads to place on ballistic missiles
Comments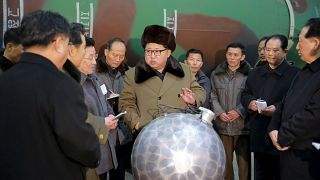 New statements have been made by Pyongyang that will do nothing to calm rising tensions on the Korean peninsula.
The North Korean leader, Kim Jong Un, says his country has miniature nuclear warheads that can be placed on ballistic missiles.
This is the first time he has publicly talked about possessing such a weapon, a claim that has not been independently verified.
Washington and Seoul also doubt it is true.
North Korea wants you to worry about this picture https://t.co/8bPPFmOvdMpic.twitter.com/Sl6Je1yGEK

— The Independent (@Independent) March 9, 2016
The claim comes only days after Pyongyang warned the US and South Korea that its army was on alert to carry out what it described as "indiscriminate" nuclear strikes.
The north is angry about the largest ever military exercise being carried out by American and South Korean soldiers.
Military experts in the north have also been ordered to quickly carry out more work on improving the precision of its missile systems.
Pyongyang has been slapped with tough new sanctions after carrying out its fourth nuclear test in January and a long-range missile test last month.
When even one of your few remaining allies voices concern! Russia warns North Korea over threats of nuclear strike https://t.co/Bt2tF1Tabo

— Seamus Kearney (@seamuskearney_) March 8, 2016
How North Korea is jamming devices and stepping up surveillance https://t.co/B3TRrnJ9jVpic.twitter.com/oGfAJpBgf8

— Bloomberg Business (@business) March 9, 2016