Russian and Serbian presidents discuss bilateral ties
Comments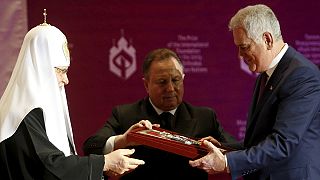 The Russian President met with his Serbian counterpart in The Kremlin on Thursday.
Vladimir Putin and Tomislav Nicolic discussed Russian-Serbian cooperation and international issues.
Russian Patriarch Kirill presented the visiting president with the award of the International Publix Fund of Unity of Orthodox People in recognition for his promotion and protection of the Eastern Christian traditions.
"You are doing a lot to protect and promote the Eastern Christian traditions and values," President Putin said. "I want to thank you on behalf of myself for your work in this direction," he added.