Gaza destroys thousands of Snickers bars after mass recall
Comments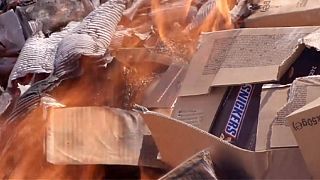 Authorities in Gaza say they have destroyed 15 tonnes of chocolate in response to last month's mass recall by the manufacturer.
Inspectors from the economy ministry oversaw the burning of thousands of bars of Snickers in the south of the Gaza Strip.
Confectionery giant Mars, the maker of Snickers, recalled Mars bars and Snickers from 55 countries last month.
The move came after bits of plastic were found in a product.
Other brands on the recall list are Milky Way Minis and Miniatures as well as Celebrations confectionery boxes.
Those involved have best-before dates from June 19, 2016 to January 8, 2017.
The countries involved include Germany, the UK, France, Belgium, Italy and Spain.
Hamas burn 15 tonnes of Snickers bars in Gaza following Mars recall https://t.co/wYhvOC8pnkpic.twitter.com/31jFym7Oyk

— The Irish News (@irish_news) March 10, 2016