Yazidi women: The ISIL sex slaves the world forgot
Comments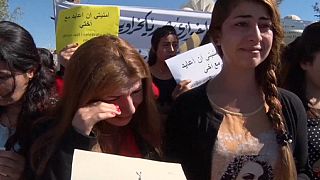 Their plight no longer makes the headlines.
But the enslavement, rape and torture of Yazidi women and children by ISIL extremists continues.
Fellow Yazidis marked International Women's Day on Tuesday by urging the world to remember the thousands still held in captivity, staging their protest at a camp for the internally displaced in Iraq's northern Kurdish region.
"We want to tell the whole international community that more than one and a half years on, Yazidi women are still being killed, raped, and sold as slaves at slave markets," said protest organiser Susan Safar of the aid organisation 'Mother'.
"We are in the 21st century and we still have women being sold at the slave market. We have been taken back to the Middle Ages."
Seized when jihadists attacked their communities around Sinjar Mountain in Iraq in August 2014, some Yazidi captives have escaped or been bought out of slavery.
But for many the nightmare of unimaginable abuse goes on.
An estimated 3,500 people, mainly women and children, are being held as slaves in Iraq by ISIL militants, the United Nations said in January.
"Those being held are predominantly women and children and come primarily from the Yazidi community," said a report issued in Geneva.