Turkey: Young boy and woman killed by cross-border rocket fire from Syria
Comments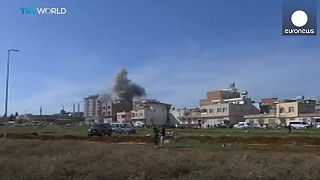 Two civilians, including a young child, were killed in southern Turkey on Tuesday after rockets were fired over the border from Syria.
Reports from the Turkish town of Kilis say that up to eight rockets landed – all fired from a Syrian region controlled by ISIL, the group calling itself Islamic State.
The dead are said to be a woman in her fifties and a four year old boy. At least two other people were injured.
The rocket fire interrupted a live TV broadcast by Turkey's state-run broadcaster TRT World.
Third missile from Syria hits Turkish border town of Kilis during TRT World live broadcast https://t.co/C56mWmqwu8https://t.co/TLu4hriCGm

— TRT World (@trtworld) 8 mars 2016
"The first rocket landed in an empty field. Then, when people started gathering, they started firing around those areas," local Mayor Hasan Kara told Reuters.
One rocket landed in an area near a hospital, Kara said.
A residential area near a high school was also hit.
Security sources said the Turkish military immediately returned fire.