Turkey and Greece work on migrant cooperation deal
Comments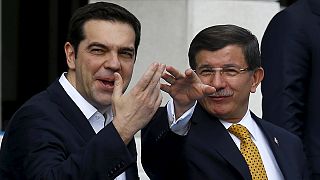 Turkey and Greece have held a bilateral meeting filling in the details on the proposed EU plan which includes a controversial refugee exchange programme. The prime ministers of both countries signed a deal they hope will end flows of people across the Aegean Sea.
The two leaders met in the Turkish city of Izmir a day after an EU summit in Brussels.
"Yesterday during the summit, and today here at this meeting, Turkey and Greece are giving a common answer with a common perspective to those in Europe who have the attitude that Greece and Turkey should deal with the crisis on their own," said Turkish PM Ahmet Davutoglu at a joint news conference. "Once again we are reiterating that Turkey and Greece are taking up this matter with a common perspective."
Greek Prime Minister Alexis Tsipras told reporters that the readmission agreement would help reduce what he called the "unbearable flow" into Europe.
"I would like to stress that the implementation of this readmission agreement sends a clear message to migrants coming from third countries: there is neither the political will nor the ability to cross to Europe [within the frame of the measures we are taking]," said Tsipras.
More than one million people fleeing war in the Middle East have entered the EU in the last year. Most make the perilous sea crossing from Turkey to Greece, before heading north through the Balkans to Germany.