UN and rights groups criticise EU-Turkey 'one in, one out' migrant deal
Comments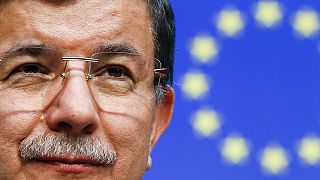 EU leaders claim deal in principle at migration summit
Turkish PM offers to take back migrants for more aid
Details of deal still to be agreed
European Union leaders and Turkey have agreed in principle to a plan to confront the current migration crisis, but they need more time to work out the details.
All the above mentioned decisions send a very clear message that the days of irregular migration to Europe are over
The proposed agreement would be for the EU to return Syrian migrants who do not qualify for refugee status to Turkey, in return for resettling within Europe an equal number of Syrian refugees.
A last-minute call by Ankara for more money and visa-free travel to Europe in return for its help came too late for a full assesment.
However, some human rights groups, including the UN refugee agency (UNHCR) and the UN Children's Fund (UNICEF), have already voiced concern at the plan, saying it may be in breach of international law.
Human Rights Watch claims the deal "contradicts EU principles guaranteeing the right to seek asylum and against collective expulsions."
Bill Frelick, the refugee rights director at Human Rights Watch, said in a statement: "A fundamental contradiction lies at the heart of the EU-Turkey deal taking shape.
"The parties failed to say how individual needs for international protection would be fairly assessed during the rapid-fire mass expulsions they agreed would take place."
Euronews reporter Gulsum Alan, who attended the summit in Brussels, said: "The negotiations were difficult. The next step is another two-day European meeting starting March 17 which will again include Turkey."
EU Council President Donald Tusk portrayed the summit as something of a breakthrough.
"Prime Minister (Ahmet Davutoglu) confirmed Turkey's commitment to accept the rapid return of all migrants coming from Turkey to Greece that are not in need of international protection," said Tusk.
"The EU will support Greece in ensuring comprehensive large scale and fast track returns to Turkey.
"All the above mentioned decisions send a very clear message that the days of irregular migration to Europe are over."
My remarks following today's #EUTurkey Leaders' meeting on migration: https://t.co/K2Fn7MyWOi. #EUCO#migrationEUpic.twitter.com/F4GbEICp85

— Donald Tusk (@eucopresident) March 8, 2016
While agreeing to take back migrants who don't qualify for asylum to alleviate the situation in Greece, Turkey's Prime Minister Ahmet Davutoglu is asking for a doubling of EU aid to six billion euros.
He is also wanting faster EU membership talks and quicker visa-free travel.
More than 13,000 migrants are currently blocked at the Greek-Macedonian border, in cold and difficult conditions, with strict limits on who can pass.
And Greece says the bottleneck of migrants on its territory now totals more than 30,000.
German Chancellor Angela Merkel is among EU leaders hailing the Turkish proposals as a potential breakthrough in Europe's politically toxic migration crisis.
More than a million people fleeing war and poverty in the Middle East and beyond have flooded into the EU since early 2015, most making the perilous sea crossing from Turkey to Greece, then heading north through the Balkans to Germany.
For every one Syrian sent back to Turkey from the Greek islands, one Syrian from Turkey will be resettled to an EU state – euobs</a></p>&mdash; Sándor Zsíros (EuroSandor) March 8, 2016
"Our objective is to discourage illegal migration, to prevent human smugglers, to help people who want to come to Europe through encouraging legal migration in a disciplined and a regular manner," said Turkish PM Ahmet Davutoglu.
But Greece also wants the bloc to speed up the process of relocating asylum seekers from its territory to other EU countries.
This was a promise made last September but so far only a few hundred of the 160,000 people have been taken.