Migrant crisis: 25 drown off Turkish coast including many children
Comments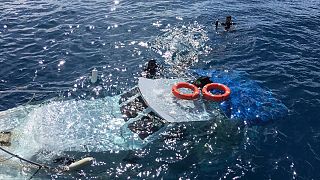 At least 13 children and 12 adults are reported drowned after a boat carrying migrants to Greece sank off the west coast of Turkey.
The Aegean Sea's latest disaster on Sunday, near the town of Didim, came just hours before crucial EU talks with Ankara on trying to solve the migrant crisis and highlights how rapidly it is spiralling out of control.
Separately, 13 people of Pakistani and Afghan origin were rescued from a sinking inflatable boat off the Greek island of Kos on Sunday.
More than 320 Greece-bound migrants have drowned this year alone according to the International Organization for Migration.
In 2016, more than 300 #people have died in the #Aegean sea alone. It won't end until #SAFEPASSAGEpic.twitter.com/0W9kNjvivf

— MSF International (@MSF) 5 mars 2016
But despite the dangers, those seeking asylum – many from Syria, Iraq and Afghanistan – keep coming.
Hundreds arrived on the island of Lesbos on Sunday after being rescued by the Greek Coastguard.
Sunday in #Lesvos -270 #people arrive at Mytilini port. They survived the sea but their future is totally uncertain. pic.twitter.com/JnzvPQOOxf

— MSF Sea (@MSF_Sea) 6 mars 2016
So far this year, some 135,000 migrants and refugees have reached Europe's shores.
Esmail & his family are among thousands waiting to cross Greece's northern border https://t.co/50gfCrvNS8#Europepic.twitter.com/bt2RrulXRT

— UN Refugee Agency (@Refugees) 6 mars 2016