ISIL truck bomb kills 70, wounds at least 60, south of Baghdad
Comments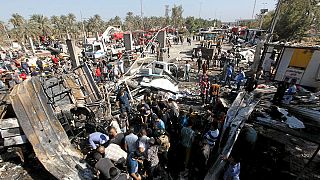 The ISIL militant group has claimed responsibility for a suicide attack in Iraq which has killed at least 60 people, medical and security officials say.
More than 70 people were injured when an explosive-laden fuel tanker was detonated at a police checkpoint on the way into the city of Hilla, south of Baghdad.
Dozens of cars were at the checkpoint when the blast occurred, at just after noon local time.
An official from a local hospital confirmed the number of casualties. Many are reported to have suffered burn injuries.
Both police officers and civilians were among those killed, one report suggests.
Blame for the explosion was claimed via the Amaq news agency's website. It supports the radical Sunni group.
"A martyr's operation with a truck bomb hit the Babylon Ruins checkpoint at the entrance of the city of Hilla, killing and wounding dozens," a statement on the site said.
Massive hell of destruction 70 deaths so far + 100 car destroyed in Hilla blast #Iraq#IS Claims responsibility pic.twitter.com/4OBha4bRZn

— World Conflict News (@WorldConflictNe) March 6, 2016
Hilla is the capital of the predominantly Shi'ite Babylon province, although there is some Sunni presence.
Falah al-Radhi, the head of the provincial security committee, has called the incident "the largest bombing in the province to date."
"The checkpoint, the nearby police station, were destroyed as well as some houses and dozens of cars," he told Reuters news agency.
At least 47 people died when a fuel tanker blew up at a checkpoint outside the city of Hilla. #Iraqpic.twitter.com/cEWf4pgSP3

— Integrity UK (@integrity_UK) March 6, 2016
#Iraq - At least 29 killed and 47 wounded in car bombing of checkpoint in #Hilla. https://t.co/jJ5wkZj3ccpic.twitter.com/DYUPrTyghf

— Ananke Group (@AnankeGroup) March 6, 2016