Turkish police targeted in two separate attacks
Comments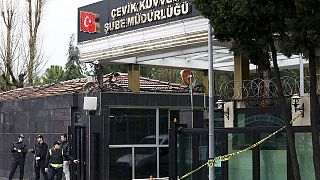 Turkish police have been the target of two assaults in as many days.
Two female assailants were killed following gunfire and grenade attacks in Istanbul on Thursday (March 3).
While the following morning a car bomb and rocket strikes killed at least two police officers and wounded 35 people in Nusaybin, in the southeastern province of Mardin.
Two civilians were reportedly among those injured.
The assault is said to have begun with the explosion of a car bomb outside the offices of the Nusaybin traffic police. Officers reportedly returned fire when the attackers began shooting and launching rocket-propelled grenades.
#TURKEY
Car Bomb Explosion At Police Post In #Nusaybin Of #Mardin Province - Report. #TerrorMonitorpic.twitter.com/rYkKBgAkHh

— Terrormonitor.org (@Terror_Monitor) March 4, 2016
There has been no immediate claim of responsibility for the Mardin attack, although the governor's office has blamed the Kurdistan Workers Party.
It comes amid an ongoing anti-PKK operation in nearby Diyarbakir, in which authorities say more than forty people were evacuated between March 3 and 4.
Assaults on security sources have been on the increase since July, 2015, when a ceasefire collapsed between the outlawed PKK and the state.
The predominantly Kurdish south east in particular has experienced a surge in violence.