Turkish police break up protests in Kurdish south east
Comments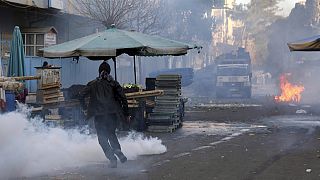 Turkish police moved in to disperse hundreds of protesters in the mainly Kurdish city of Diyarbakir on Wednesday (March 2) – at least 33 people were arrested.
Locals were complaining at months of government-backed security operations to root out members of the militant Kurdistan Workers Party (PKK) particularly in the district of Sur which has been under lockdown since December 2.
The leader of the pro-Kurdish opposition People's Democratic Party (HDP), Selahattin Demirtas says civilians have been the main casualties during the security crackdown, claiming 211 deaths it began.
"We don't want the ruling AK Party's murky war in our cities, in our lands and our country. We dare to take to the streets against this. This protest was against those who dare to (start) a war. It is a crime to ban this protest or say it is illegal," he said.
At a conference in Ankara Turkish Prime Minister Ahmet Davotoglu accused the HDP, which is the third biggest party in parliament, of collaborating with "terrorists".
"For God's sake, have you ever heard them ask the PKK 'why do you stain our politics by taking guns in your hands?" They HDP don't want peace. On the contrary, they want to drag Turkey into chaos by collaborating with terrorists. We will not allow that." Parliamentary immunity should not protect lawmakers who "commit crimes", he added.
Later the authorities partially lifted a curfew in the town of Cizre allowing residents onto the streets to retrieve belongings from houses either destroyed or badly damaged during the round-the-clock curfew, which lasted a total of 79 days.
A handful of cities in Turkey's south east have been engulfed in the worst violence since the 1990s following a breakdown of a two-year ceasefire with the autonomy-seeking PKK last July.
Cizre residents return to destroyed Kurdish-majority town in Turkey Telegraph</a> <a href="https://twitter.com/AFPphoto">AFPphotohttps://t.co/Goi1En7tvopic.twitter.com/dySmbXzY1Z

— Mutlu Civiroglu (@mutludc) March 2, 2016