Honduras: clashes break out after death of activist Berta Cáceres
Comments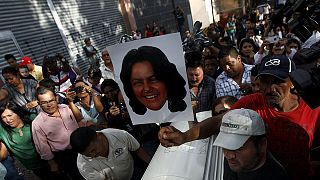 Clashes broke out in the Honduran capital following a student protest over the murder of prominent environmental rights activist Berta Cáceres.
Stones were thrown at the university campus protest. Police retaliated with tear gas.
According to the Security Minister, Berta Cáceres was killed by two men at her home in La Esperanza, over a hundred kilometres west of the capital, Tegucigalpa.
Police said another person was wounded in the incident and one suspect has been arrested.
Incredibly sad news out of Honduras this morning. We should all honor the brave contributions of Cáceres: https://t.co/vE93t6FpiU

— Leonardo DiCaprio (@LeoDiCaprio) March 3, 2016
The 40-year-old a Lenca Indian activist had previously alleged her work had resulted in death threats from police, soldiers and local landowners.
She won the Goldman Environmental Prize in 2015 for her fight to prevent the construction of a 50-million-dollar dam that threatened to displace hundreds of indigenous people.
The work of indigenous rights activist #BertaCaceres does not end with her death https://t.co/7Zh3W1ZqJxpic.twitter.com/Lzn8mvN8Hp

— Ford Foundation (@FordFoundation) March 3, 2016