Gulf Arab states label Hezbollah a terrorist group
Comments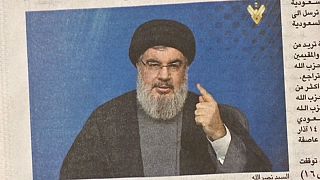 The Shi'ite militant group Hezbollah is facing further sanctions after a decision by the six-member Gulf Cooperation Council (GCC) to class it as a terrorist organisation.
The Iranian-backed organisation wields considerable influence in Lebanon and the country's former prime minister Saad al-Hariri believes it's time Hezbollah's was invited to the talks table to broker peace.
"We should talk with those we have a problem with, no? We should talk with Hezbollah. Some may think that this dialogue is leading nowhere, but I assure you sooner or later this dialogue will reach a result, because Hezbollah will discover that it took some positions that do not benefit the country," said Hariri.
There's been no immediate reaction from Hezbollah, but on Monday its leader Sayyed Hassan Nasrallah accused Saudi Arabia of pushing Lebanon into a new phase of political conflict by announcing it was suspending an aid package for the Lebanese army.
Political expert, George Aalam believes the Gulf country's move could have unforeseen consequences: "It's very dangerous because the question is how the countries of the GCC will deal with the government of Prime Minister Tammam Salam which cooperates with this so-called terrorist group, especially as this group (Hezbollah) while this movement has two ministers in Salam's government."
The Sunni Muslim dominated council - representing Saudi Arabia, the UAE, Bahrain,Kuwait, Oman and Qatar - already imposed sanctions on the Shi'ite Muslim group in 2013 after it entered Syria's war in support of President Bashar al-Assad.