El Chapo: Extradite me to the US, the Mexican prison guards won't let me sleep!
Comments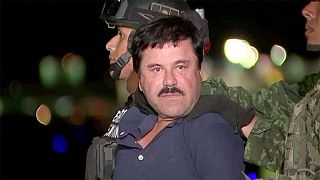 A complaint of sleep deprivation is said to be behind a request by the captured drug lord Joaquin "El Chapo" Guzman to be quickly extradited from Mexico to the US.
He has reached the limit. It is an act of desperation
A lawyer for the prisoner says guards at a jail in Altiplano west of Mexico City are keeping his client awake and he is now desperate.
Jose Refugio Rodriguez says Guzman told him to negotiate with US authorities for a lighter sentence and confinement at a medium security prison.
Rodriguez said: "He has reached the limit. It is an act of desperation."
'El Chapo' can't sleep in Mexican prison, now wants quick extradition to the United States https://t.co/yzXK4UaJ73pic.twitter.com/oJ9p7LLwBw

—

CBS

4 News (@kgbt) March 2, 2016
Mexican drug lord 'El Chapo' Guzman seeks to speed up extradition to the US https://t.co/h0J1lQKylhpic.twitter.com/uAQmnbHl9U

— Newsweek (@Newsweek) March 2, 2016
Scholar reflects on the consequences of El Chapo's arrest https://t.co/MAOYWtv66I

— Harvard University (@Harvard) February 29, 2016
Lawyer says Mexican drug lord 'El Chapo' Guzman wants extradition after sleep problems at maximum-security prison: https://t.co/54jv4Rxv3j

— The Associated Press (@AP) March 2, 2016
Mexican drug lord 'El Chapo' in poor health, wife sayshttps://t.co/3MkMyOHPQPpic.twitter.com/05mq77lD1c

— CP24 (@CP24) February 29, 2016