Aid agencies slam French destruction of Calais migrant camp
Comments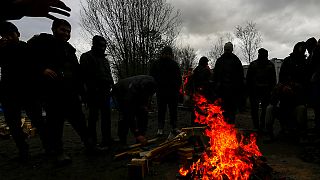 The French authorities continued clearing the southern part of the Calais migrant camp known as the Jungle on Tuesday as police stood guard in case of a repeat of Monday's clashes.
Evictions from the Calais camp is only shifting the problem elsewhere
The French government claims there is enough alternative accommodation in specially adapted containers for those evicted but Aid workers such as Maya Konforti from NGO "Auberge des migrants" say the numbers have been vastly under-estimated:
"We are not resolving anything by the destructionof this camp because the refugees are still here, the fact is this is only making it more precarious. A few will go and live in the containers and others in the CAOs (welcome centres for migrants across France). The state does not have adequate space for everybody."
France's Calais refugee camp, home to hundreds of unaccompanied children, facing violent evictions https://t.co/EVRvzizucM … by AlleenBrown</a></p>&mdash; Ryan Devereaux (rdevro) March 2, 2016
France has promsed every migrant will be proposed a solution while they bid for refugee status in France, but many like Afi Lal'Mohamed from Kabul aren't reassured.
"They're gonna finish with the Jungle everything, we don't know what we have to do. Food problem, clothes problem, everything is a problem. Many families here. No one helps us. We are here, we can do nothing."
Many living the in camp are still attempting to climb illegally onto trains and lorries using the Channel Tunnel into Britain where they hope to settle. The UK government is being urged to act more quickly into accepting vulnerable, unaccompanied children.