Suspense as the US awaits results from Super Tuesday primary ballots
Comments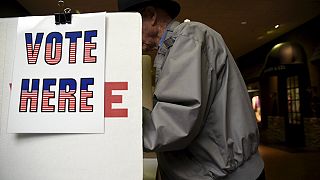 It is the biggest single day of voting in the US primary elections, with Democrats and Republicans voting in 13 states and one territory.
Super Tuesday is seen as a crucial stage in the race to confirm who is favourite to be the presidential candidate for each party.
Hillary Clinton is hoping to cement her lead on the Democrat side, holding her latest rally in Minnesota.
She said: "I'm just speaking out against bigotry and bullying wherever I hear it, and I hear a lot of it from the Republican candidates. They seem to have forgotten completely about issues and they are now running their campaigns based on insults."
Republican frontrunner Donald Trump was in Ohio and went on the attack against Clinton.
"Hillary Clinton does not have the strength or the stamina to become president," he said.
"You ever noticed she goes to a meeting and then you don't see her for five days and then she goes to another? And everything's set up; they interview the people before they ask the questions, and we aren't doing that."
The man Clinton is hoping to beat, Vermont Senator Bernie Sanders, voted in his hometown of Burlington.
Sanders admitted that if turnout was not high enough, it would be a struggle.
Republican Ted Cruz voted in Texas, the only state where he appears to have a narrow lead over Trump.
The other Republican still in the race, Marc Rubio, warned that "a vote for Trump is literally a vote for Hillary Clinton in the elections in November".