Watch: Photographer thrown to the floor at Donald Trump rally
Comments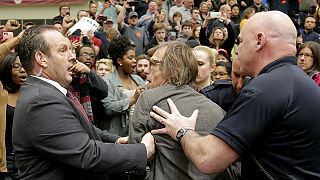 Things are heating up ahead of Super Tuesday on the US campaign trail.
Video footage has emerged seemingly showing Chris Morris, a Time magazine photographer, being grabbed by the neck and shoved to the ground by a US Secret Service agent during a Donald Trump rally in Radford, Virginia. The photographer, who worked in war zones such as Iraq and the former Yugoslavia, was trying to document the exit of dozens of black protesters from the rally on February 29th.
In doing so, Morris stepped out of the press pen, a gated area the Trump campaign strictly requires reporters and cameramen to stay in during events, according to Time Magazine.
At this moment, an agent of the Secret Service, which has the job of protecting the US president and some White House candidates, confronted Morris and tried to move him back to the pen. The argument escalated and Morris, who previously covered the White House for nine years, swore at the Secret Service agent. The photographer was then thrown on the ground in a two-hands choke hold by the agent.
Other videos of the event, posted by Independent Journal reporter Joe Perticone show the altercation from close up.
Here's moments prior. The reporter says "f*ck you" — that's when it got physical pic.twitter.com/h9K2wIbEWQ

— Joe Perticone (@JoePerticone) 29 février 2016
Once on the ground, Morris kicks at the agent then, once up, briefly grabs the throat of the agent with one hand, which seems to aim at showing the agent how it feels to be choked. The photographer is then escorted out of the venue and briefly detained.
Secret Service agent choke slams reporter pic.twitter.com/jdsHOlylSB

— Joe Perticone (@JoePerticone) 29 février 2016
"I stepped 18 inches out of the (press) pen and then he grabbed me by the neck and started choking me and then he slammed me to the ground," Morris told CNN at the scene.
Later, the photographer declared in a statement: "What happened today was very unfortunate and unexpected. The rules at Trump events are significantly stricter than other campaigns and make it very difficult to work as a photographer, as many others have pointed out before me. I regret my role in the confrontation, but the agent's response was disproportionate and unnecessarily violent. I hope this incident helps call attention to the challenges of press access."
The Trump campaign in a statement declined to comment on the incident, and the Secret Service in another statement acknowledge there had been an incident and said it 'will provide further details as warranted once additional facts surrounding the situation are known'.