More confrontations at Calais migrant camp after bulldozers move in
Comments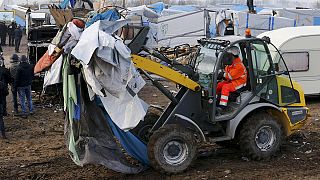 More confrontations at Calais camp
Save the Children condemn forced clearance
French government see camp demolition as humanitarian action
There were more clashes late Monday evening in northern France as some migrants continued to protest against the clearance of part of the shanty town known as the Jungle which lies outside Calais.
Riot police were on hand even though dismantling the camp was temporarily suspended Monday afternoon – it is set to resume today (March 1).
Earlier on Monday demolition teams had moved onto the site where about 4,000 migrants wanting to get to the UK have been staying. The action came after a judge in Lille ruled last Thursday that a partial clearance should go ahead, apart from social spaces, including schools and places of worship. About 100 homes have so far been dismantled.
Shocking Aerial Photos Show The Huge Expansion Of The Calais Migrant Camp – https://t.co/DauzUTUMdtpic.twitter.com/CUfQudVrG2

— Breaking911 (@Breaking911) February 7, 2016
Thousands of migrants fleeing war and poverty, from Afghanistan to Syria have converged on the northern port over the past year.
Several arrests were made on Monday – some of those detained are activists from the UK-based "No Borders" group.
Save the Children have criticised clearing the camp saying it will "make what was already an appalling situation for children even worse".
The French authorities had declared earlier that the move to clear the camp would be a "humanitarian operation". They want to relocate people from the squalid, rat-infested site to heated containers nearby or to centres around the country.
But campaigners say there is not enough new accommodation and many migrants have refused fearing they will be forced to claim asylum in France instead of the UK which is their preferred destination.
Among welfare organisations that have been active in the Calais camp, there is concern that refugees will continue to receive long-term medical aid and support.
#French police launch tear gas at migrant protesters during forced removal of #CalaisJunglehttps://t.co/OunZg6jXUqpic.twitter.com/4dSiAaWo4x

— Sputnik (@SputnikInt) March 1, 2016
Demolitions at Calais must not bulldoze people's rights. Forced evictions are no solution: https://t.co/oFKuJcY6J5pic.twitter.com/jiL7I9MA8K

— Amnesty UK (@AmnestyUK) 29 February 2016