Former leader of banned Basque party freed from jail in Spain
Comments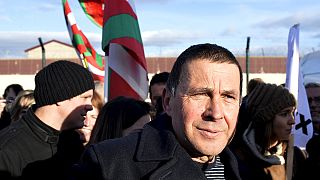 Free after six and a half years in prison.
The former leader of the outlawed Basque separatist party Batasuna, Arnaldo Otegi, was greeted by supporters shouting independence.
Batasuna was considered by the authorities to be the political wing of the armed militant group ETA.
Otegi told the crowd outside the prison: "All these cameras recording mean and tell us that there are still political prisoners in the Spanish State.
"Six and half years ago they tried to imprison us and they did it just because we bet on peace and I want to congratulate all of you as you were able to maintain this bet despite provocations.
"Peace is, of course, the path but on this path, we must take a bet until the end."
Otegi was charged with attempting to reform the Batasuna party, which was outlawed in 2003.
The armed militant group has been dealt numerous blows in recent years with hundreds of arrests and seizures of weapons and property in raids in both Spain and France.
Hundreds of people have been killed in the struggle by ETA to create an independent Basque state in northern Spain and southern France.
Basque radical left leader Arnaldo Otegi exits jail after serving six years for trying to rebuild ETA political wing https://t.co/UJ2nrdz5zj

— El País in English (@elpaisinenglish) March 1, 2016
The release of Arnaldo Otegi, a Basque leader, is causing alarm in Spain. https://t.co/juNtxDeaPHpic.twitter.com/RRWu2UfyDy

— New York Times World (@nytimesworld) March 1, 2016
Otegi confirms NYT he will run for internal EHBildu elections to select candidates for next Basque elections ,https://t.co/E6zpNVYb5d

— urko aiartza (@uaiartza) February 29, 2016
it's happening today! Otegi will be free, but 100s will remain jailed. #FreeOtegi#FreeThemAll (mural from Belfast) pic.twitter.com/PvgWl1w57F

— David Ferreira (@Igualitarista) March 1, 2016
He is Arnaldo #Otegi,who argues that killing hundreds of men,women and children was necessary and instrumental#ETA pic.twitter.com/dTJOa8xpCr

— WorldCounterTerror (@WCTerrorism) February 29, 2016