Apple-FBI stand-off raises red flags for European data protection agreement
Comments
By
Euronews
with
SYMELA TOUCHTIDOU, EU PRESS RELEASE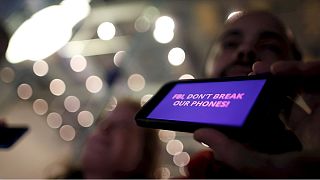 The fight between Apple and the US law enforcement agency the FBI over access to a terrorist's iPhone is raising concerns in Europe.
Apple is refusing to cooperate arguing that creating a tool to unlock encrypted data on the phone would weaken the security of hundreds of millions of Apple devices.
The stand-off has implications for agreements between Brussels and Washington on the sharing of information between US and European law enforcement agencies.
And Apple's argument seems to resonate with the European Data Protection Supervisor Giovanni Buttarelli. He told euronews Business reporter Symela Touchtidou: "The large majority of people still believe that security of our data networks and infrastructures is essential. Can you imagine what it means to allow hackers in the world to enter into our devices just because we have dismantled the secure infrastructure we have today? No, it would be a big mistake!"
Businesses need to be sure data transferred across the Atlantic is secure.
And the Apple FBI case threatens to undermine trust in a recent transatlantic data protection agreement called Privacy Shield, which is designed to ensure that people's personal information is protected to EU standards when it is sent to the US.
Privacy Shield has already been greeted with scepticism in the technology world and by activists.
First Reaction (v1.1) on the COM proposal for a #PrivacyShield.
"Back to Luxembourg?" https://t.co/ioX8qlM3Fg [PDF] pic.twitter.com/6iY8zQm2LC

— Max Schrems (@maxschrems) 29 February 2016
This is just a joke. @EU_Commission sells out EU fundamental rights and puts itself at risk to be lectured by CJEU again. #safeharbor

— Jan Philipp Albrecht (@JanAlbrecht) 2 February 2016