EU seeks to heal divisions over migration crisis
Comments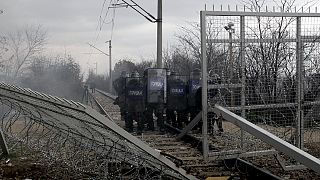 Thousands of refugees have spent another cold night stranded on Greece's border with the Former Yugoslavian Republic of Macedonia.
Earlier frustrations boiled over at restrictions imposed on people moving through the Balkans. Police on the Macedonian (FYROM) side fired teargas to disperse the migrants who had stormed the border.
A witness said several rounds of teargas were fired into the crowd and onto a railway line where other migrants sat refusing to move, demanding to cross the country. Around 6,500 are currently waiting to continue their journey northwards.
A girl cries as she flees clashes during a protest at the Greek-Macedonian border,… https://t.co/IUgYIn3rJk vía Reuters</a></p>&mdash; CARLOS G TRUJILLO C (ctrujillocarpio) February 29, 2016
German Chancellor Angela Merkel, facing the biggest test of her decade in power continues to reject any limit on the number of refugees it allows in despite divisions within the government over the issue.
"If a big continent like Europe with 500 million inhabitants can give refuge to one million Syrians I don't think that's asking too much, as a neighbouring region. And it's probably not even one million Syrians who are here who really need refuge," said Merkel.
On Monday the first 93 Syrians refugees arrived in Italy as part of a pilot project… but they are the lucky ones.
Beyond the walls: FM PaoloGentiloni</a> welcomes 93 Syrian <a href="https://twitter.com/hashtag/refugees?src=hash">#refugees</a> arrived<br>in Italy via safe <a href="https://twitter.com/hashtag/humanitariancorridors?src=hash">#humanitariancorridors</a> <a href="https://t.co/dOkxF19SOZ">pic.twitter.com/dOkxF19SOZ</a></p>&mdash; Sebastiano Cardi (sebastianocardi) February 29, 2016
European Union Council president, Donald Tusk is visiting Austria and other countries along the Balkans migration route this week seeking to heal deep divisions over how to deal with the biggest humanitarian crisis in decades.
More than a million people fleeing war in Syria and turmoil across the Middle East arrived in the European Union last year, mostly crossing from Turkey to Greece. And the influx shows no sign of slowing despite a November accord with Ankara meant to impose a halt.
"President Tusk will travel to Vienna, Ljubljana, Zagreb, Skopje and Athens from the 1st to the 3rd of March to continue building a European consensus on how to handle the migration crisis," a statement issued by his office said.
The trip will help prepare for a crucial summit with Turkey on March 7 to review progress on the November agreement, and for an EU summit on March 17-18 which is likely to be dominated by the migrant crisis.