FYROM police fire tear gas at migrants amid Greek border tension
Comments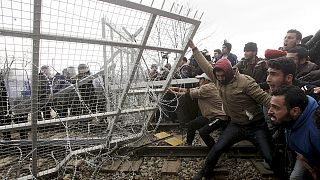 Police in the Former Yugoslav Republic of Macedonia have fired tear gas to disperse hundreds of migrants and refugees at the Greek border, as frustrations boiled over at restrictions imposed on people moving through the Balkans.
A crush developed following reports that the border had been opened after several hours where it had remained shut.
The trouble reportedly came after crowds tore down a gate to get onto a railway line.
An estimated 8,000 people, said to be mostly Syrians and Iraqis, have now gathered at the frontier at Idomeni.
Countries along the Balkan route – including Macedonia – have beefed up controls, reducing the number of people allowed entry each day.
At least 22,000 refugees and migrants trying to reach central and northern Europe have been stranded in Greece over the past week.
The German Chancellor Angela Merkel has said Europe can't allow Greece to fall into "chaos", a year after fighting to keep the country in the eurozone.
Greece has warned that the number of people stuck on its territory could triple in March to 70,000.