DiCaprio finally gets his Oscar, Spotlight takes the award for Best Picture, and Mad Max cleans up on the technical front
Comments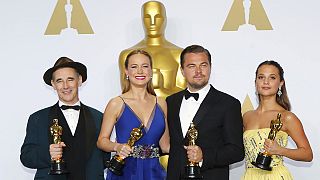 After 22 years in the business and six nominations a clearly delighted Leonardo DiCaprio finally got his hands on an Oscar for Best Actor for his lead role in The Revenant.
And now the moment of truth!!! Best Actor in a Leading Role goes to LEONARDO DiCAPRIO (Finally!) for #TheRevenant#88thAcademyAwards !!!!!

— The Oscars 2017 (@Oscars_Live) February 29, 2016
DiCaprio described The Revenant as a film about a man's relationship with the natural world and said it fitted with an obsession of his – the environment and climate change.
In honour of Leo's deserved #Oscars win! #HappyMondaypic.twitter.com/ByFbFqTbYK

— MyFashionLife (@MyFashionLife) February 29, 2016
The film also earned an Oscar for its director, Mexican Alejandro Iñárritu, as well as the prize for Best Cinematography.
But despite the glory for The Revenant, the Best Picture award went to 'Spotlight'.
The film follows the true story of how reporters at the Boston Globe revealed the extent of child abuse by Catholic priests in Massachusetts.
Best Actress went to Brie Larson for her role in Room.
The film tells the harrowing story of Ma Larson, a young mother held captive with her five-year-old son Jack, played by Jacob Tremblay, in a small room with just a skylight and no windows.
On a entirely different note it was the SciFi fantasy Mad Max Fury Road that bagged the most Oscars on the night, taking home six awards in all.
George Miller's post-apocalyptic epic hoovered up the awards for Best Costume Design, Production Design, Makeup and Hairstyling, Film Editing, Sound Mixing and Editing. The film helped eclipse Star Wars: The Force Awakens, which left the ceremony empty-handed.
They will ride eternal, shiny and with Oscar gold. Congrats to the team from #MadMax: Fury Road. #Oscarspic.twitter.com/FXQaUweLwM

— Mad Max Movie (@MadMaxMovie) February 29, 2016